Experiences shared with friends or family
Are you planning your next holiday to be with your family or in the company of friends in a pleasant but breathtaking atmosphere in Mallorca? Porta Holiday selected ten perfect holiday domiciles for larger groups for you and your companions. We have picked out examples of residential properties connected to each other so that you have enough space but also privacy.
Spend your holidays in lovely villages and enchanting locations all over the island.
Whether it is a modern Finca in the jewellery town of Manacor, a charming  country house in Artà, nestled in a multi-facetted landscape with cliffs and fertile valleys, or a comfortable apartment in the bustling district of Cala Mayor and its popular beach.
We have suitable holiday domiciles for everyone, making it possible for families and friends to get together in exceptional settings which can be used as a starting point for excursions all over the island. We wish you an enjoyable and unforgettable holiday.
Fantastic fincas next to each other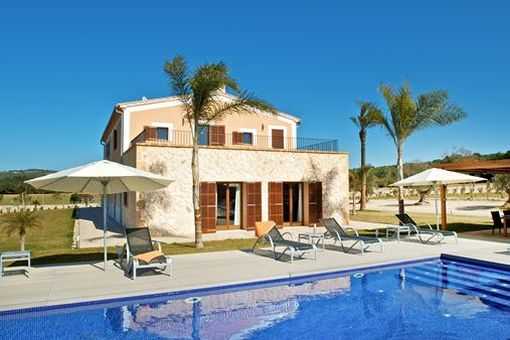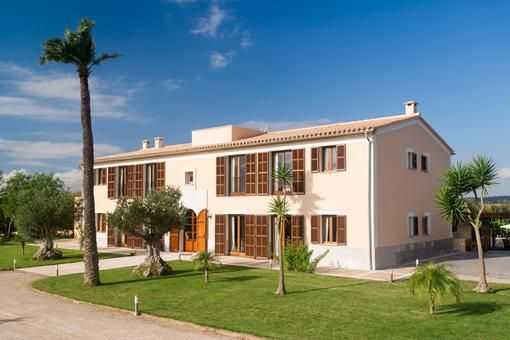 This luxurious holiday home is located on a 20,000 sqm plot near Manacor. The finca is surrounded by numerous large terraces, all of which converge on the 10 x 5 metre swimming pool, but for larger groups or for special occasions such as weddings there is another finca located in the immediate vicinity which can also be rented. Manacor is, after Palma, the second largest town in Mallorca and is famous for its jewellery factory, where the famous Mallorcan pearl jewellery is produced.
Here is further information…
An urban dream-villa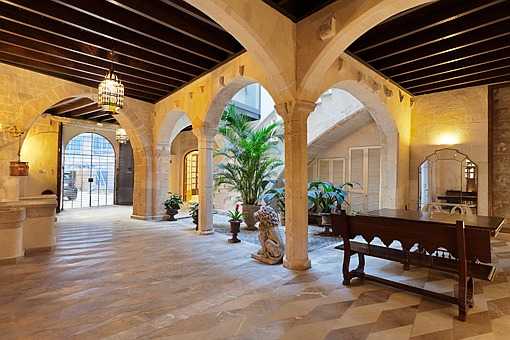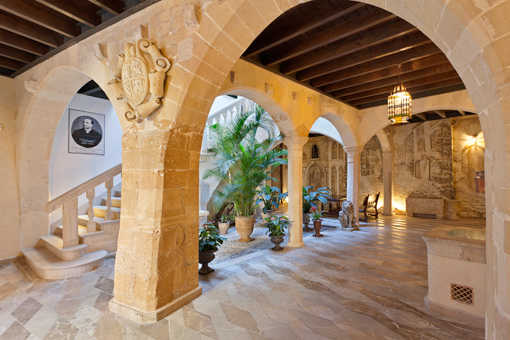 These apartments are located in the same town house which has been completely renovated whilst paying particular attention to the original antique-style elements – even the entrance hall is impressive. They are located directly in the old town of Palma, just 2 minutes from the Plaza Mayor, where the choice of small, fine boutiques, well-known restaurants and cosy street cafés is almost endless. The terrace is equipped with sun loungers offering a spectacular view over Palma.
Typical Majorcan house for a holiday with friends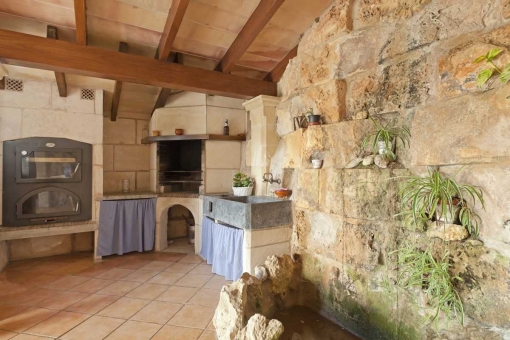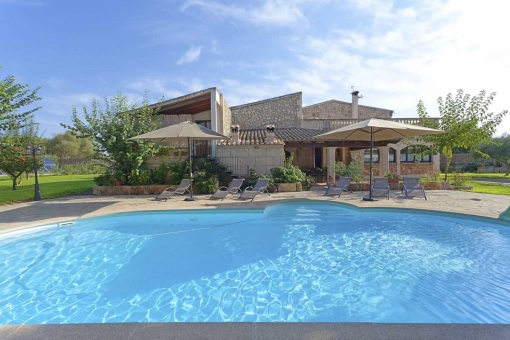 The Finca Puig Xigala has a living space of 400 sqm and accommodation for up to 12 people making it perfect for a holiday with family and friends! The finca is just 6 km away from Manacor and has a large pool to relax and unwind. 7 bedrooms and 3 bathrooms providing ample space for visitors. And what would a holiday villa be without a barbecue? The generous barbecue area offers everything needed for a convivial and successful barbecue.
Read more details here …
A modern finca with lots of comfort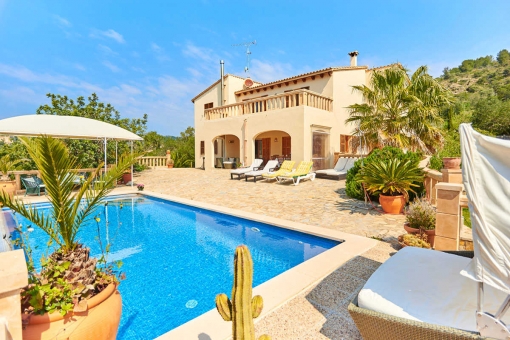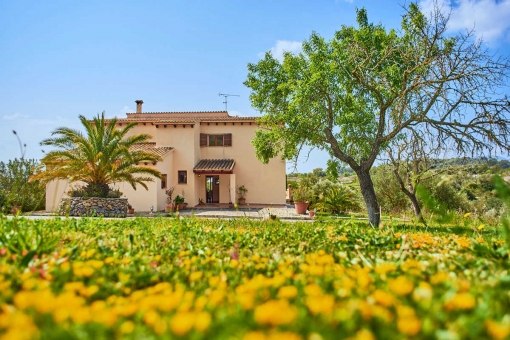 This modern finca is located near the beautiful artist's town of Artà. It was built in 2006 and impresses with its contemporary decor. In the outdoor area, you can find a large terrace with comfortable garden furniture, a barbecue for convivial BBQ evenings and a large pool. There is also a covered parking spot. The municipality is known for its nature reserve, the Parque Natural de Llevant, an attraction for both hikers and cyclists. The finca offers a lovely view of the surrounding nature. In the immediate vicinity, many kilometre-long, fine-sandy beaches which, even now, remain spared from the construction of large hotels, can be found. This makes it possible that a relaxing beach holiday can be enjoyed by the finca guests.
Discover more of this paradise …
Holidays in harmony with nature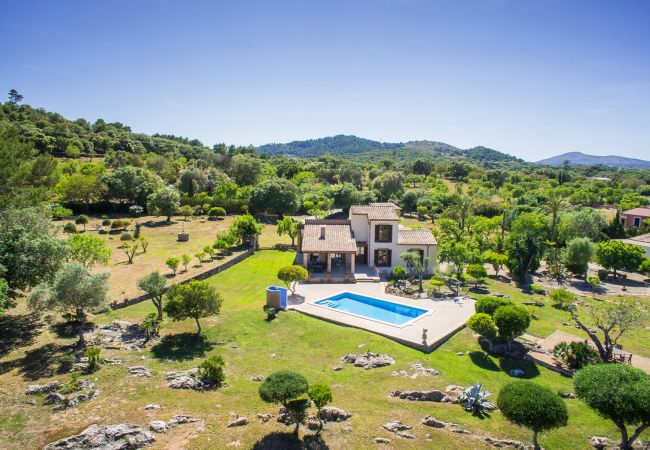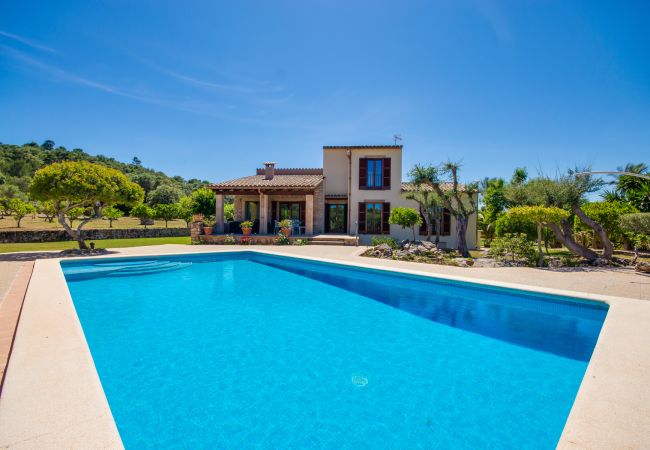 Located near to the artists' village of Artà, the Finca Amarilla is a superb holiday destination with accommodation for up to 8 people. The beautiful sandy beach of Canyamel is only a few minutes by car away. With an incredibly beautiful garden the finca offers its guests complete privacy to swim undisturbed in the large pool or just to relax on one of the numerous sun loungers. The covered terrace provides a shady place for dining outdoors or simply to relax while reading a good book.
Further enchanting fincas here …
Stylish finca with 7 gardens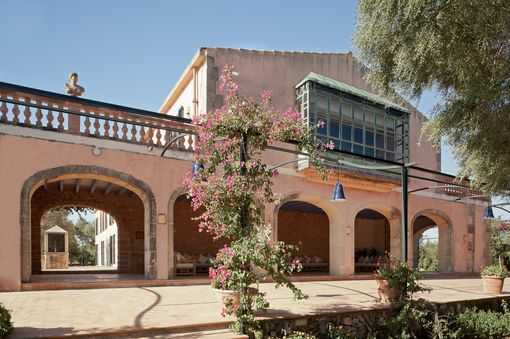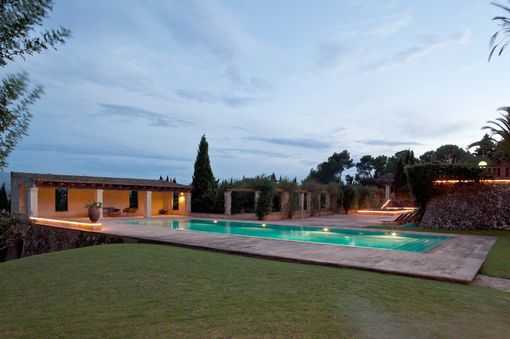 The event-finca Son Doblons offers you not only 1.000 sqm of living space, but the superb property also stands on 130 hectares of land with tremendous views on the Tramuntana mountains and Cap Formentor. The finca has been lovingly renovated, paying great respect to its art and architecture. The result is an impressive and elegant interior with 8 exclusive suites and a total of 7 gardens to make the holiday feeling perfect.
Santa Margalida itself is characterized by agriculture and handicraft. It is the ideal place to enjoy a delicious dinner after a long day at the beach.
Find out more here …
A house with great attention to detail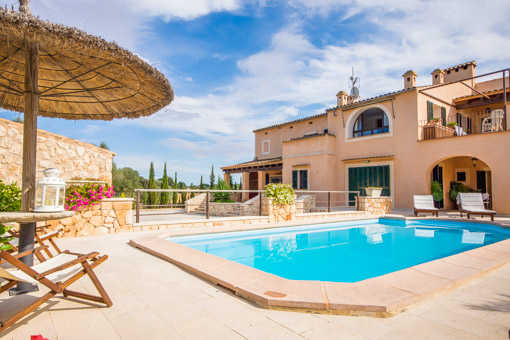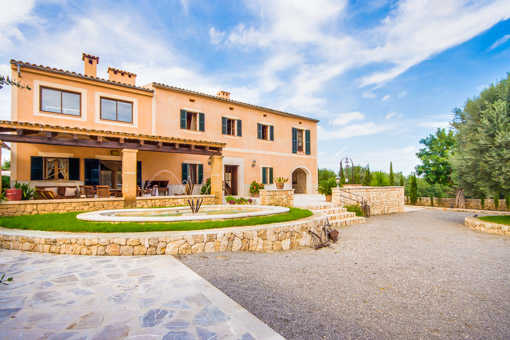 This finca offers on 7.500 sqm of land not only a pool and a very well-maintained garden but also several balconies and terraces, one of which is covered, providing welcomed shade on hot days. On the property, there are two separate residential units available which can be booked together or separately. The interior of the house has been lovingly furnished and decorated paying much attention to details. The finca is located close to Manacor, the second largest city on the island, which is famous for the production of Majorcan pearl jewellery.
Details of your dream holiday can be found here …
A paradise for animal lovers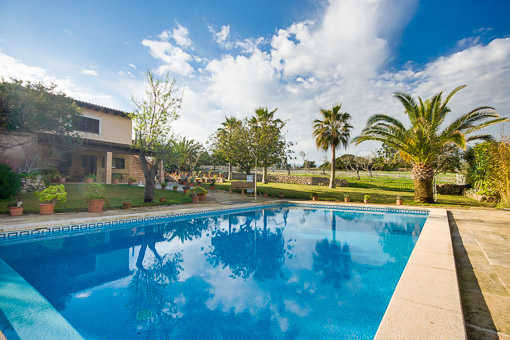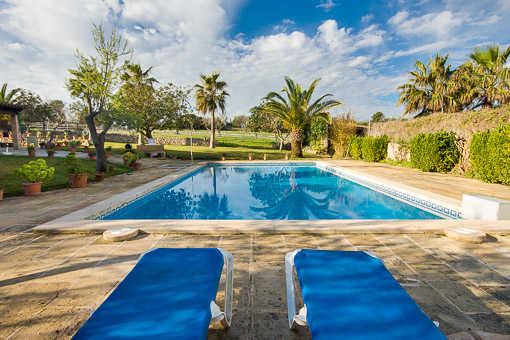 This wonderful finca in Capdepera is an outstanding holiday home, particularly for families with children. The property houses a small casita (cottage) for 4 people and a separate apartment for 7 more guests. On the lovingly landscaped ground, a pool with solar cover and lots of palm trees is providing ample shady places to relax. Especially exciting for children are the 2 ponies, 2 donkeys and a horse on the pasture next to the finca. There is also a sauna and a boules pitch.
Read more here…
Apartments with a pool on the roof terrace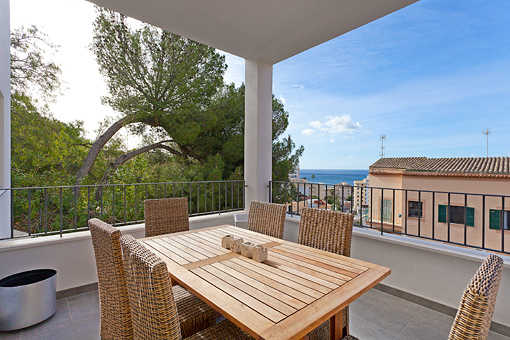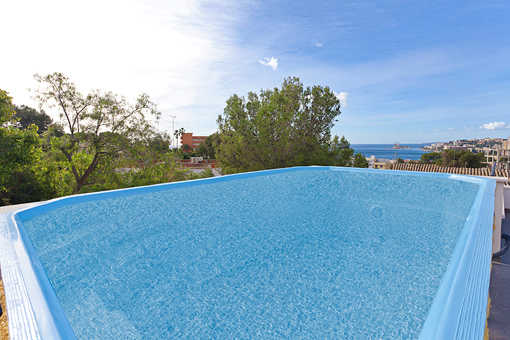 This modern building in Cala Mayor has two separate apartments and is only 300 metres away from the popular beach with a multitude of water sports. The town has many bars, cafes and restaurants and is also only a 5-minute drive away from the islands capital Palma with all its cultural attractions. The smaller apartment is suitable for 4 people and the larger one is for further 6 guests, providing fantastic holiday accommodation for a total of up to 10 people. Both apartments share the pool on the rooftop terrace from where you can enjoy a spectacular view over the town and the sea.
Have we made you curious? Then keep reading here …
Comfortable oasis on the outskirts of the town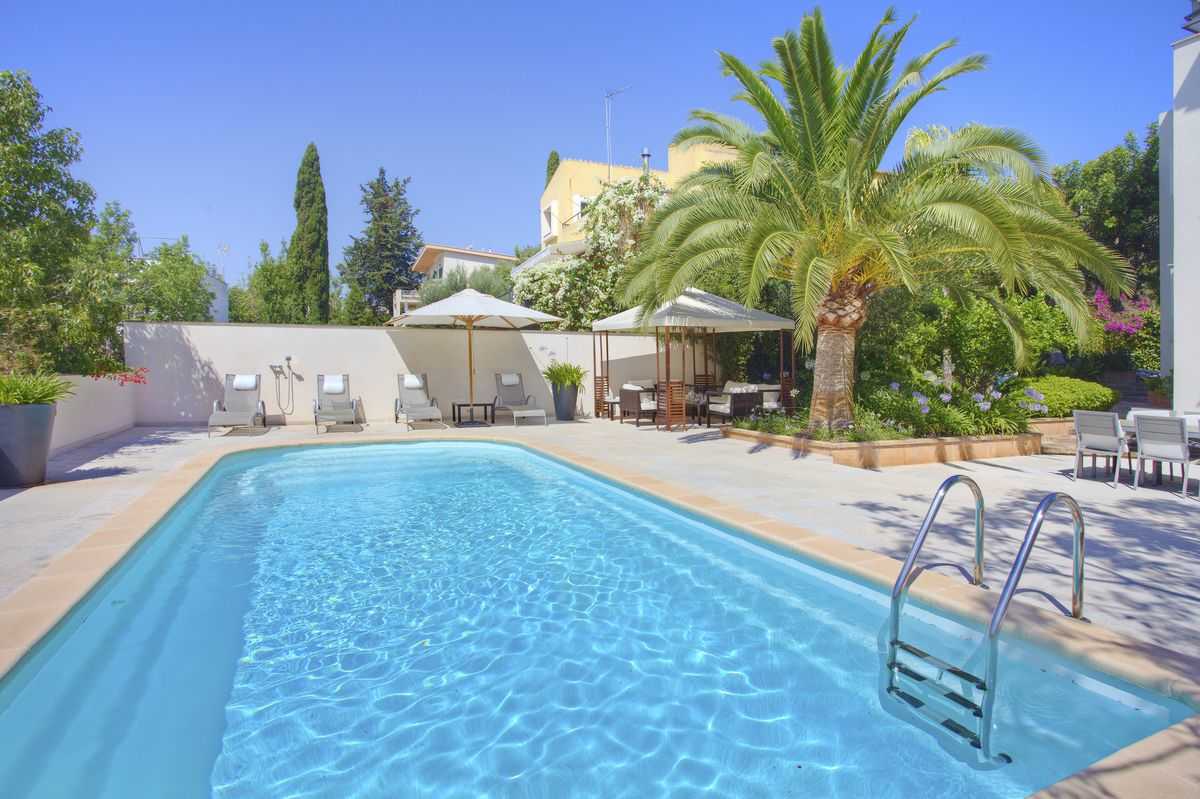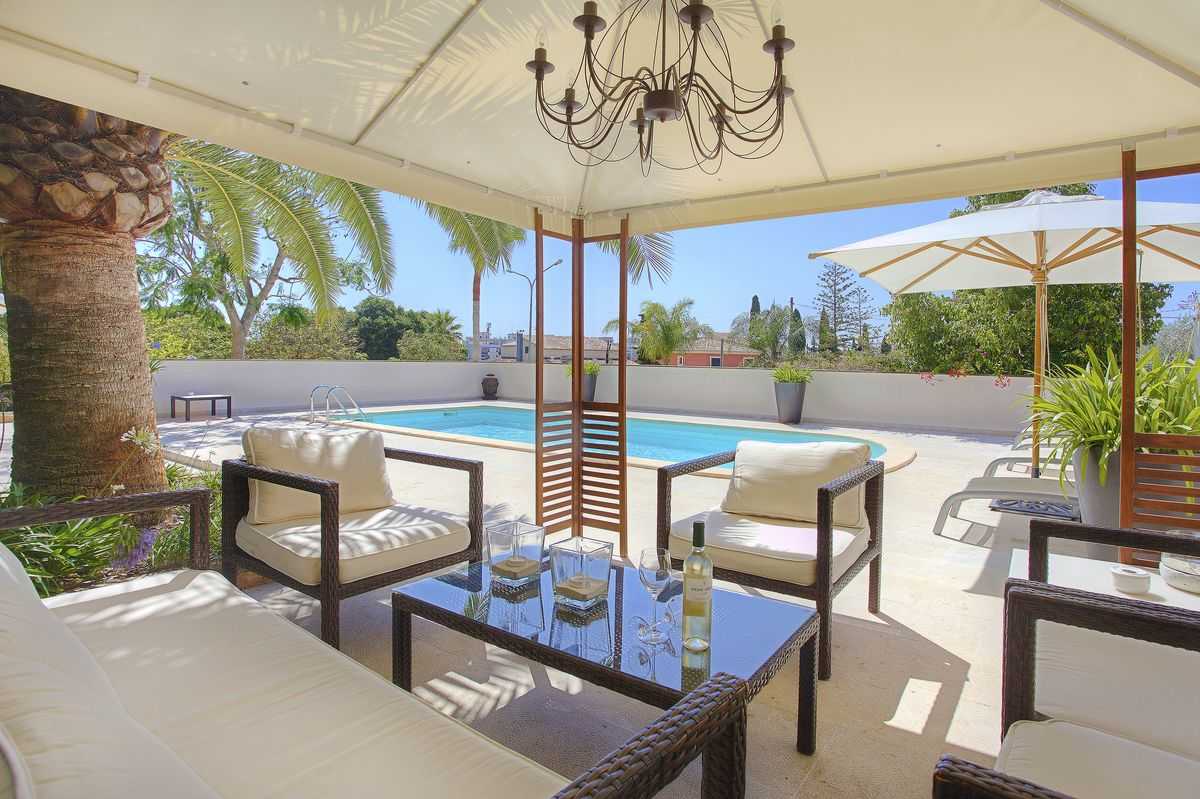 The modern and beautifully furnished apartments Limones and Olivas offer very stylish interiors and furnishings, each of them accommodating 2 people. On the property is a large communal pool and ample sun loungers to relax in peace and quietness. The location is excellent, having the centre of Palma and three golf courses nearby.
Read more here…