This month in our blog series we would like to introduce you to the sea-fennel and there is, of course, a recipe tip for you to cook on your holiday finca or at home. We hope you have fun!
Those who are not familiar with the sea-fennel and are confronted by it for the first time on a Majorcan open sandwich, the pa amb oli, could mistake the dark green, leafy plant for algae because that is what the plant, which belongs to the umbellifer family, seems to be and the name also suggests that it has something to do with the sea.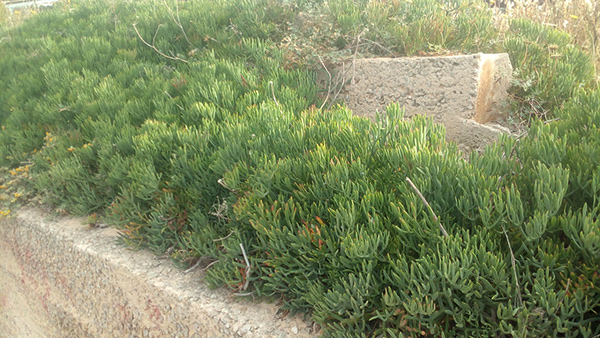 Inconspicuous but very healthy
Crithmum maritimum, its Latin name, does indeed grow on the edge of the sea on flat, rocky coastlines and the plant is happiest close to wind and waves. As a result, fonoll mari – its local name – tastes very aromatic and spicy, reminding of sea air and salt water.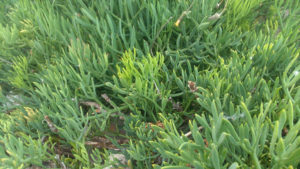 It is a somewhat inconspicuous and tough succulent plant with gray-green, elongated leaves and pale yellow flowers which grows close to rocks and dunes. In fact, wild fennel resembles with its small, only a few millimeters-long fruit reminiscent of the well-known fennel seeds. Despite its visual inconspicuousness the sea-fennel is in a class of its own with regards to its vitamin C content which is so high that seafarers of earlier times preserved the green plant for months by pickling it, and ate it as a preventive measure against scurvy on long voyages. Its medicinal and culinary advantages have been known since ancient times and the effect is described as increasing the appetite, purifying the blood, diuretic and detoxifying.
The coastal plant is intense in taste
The fonell mari is a truly island-typical side-dish and indispensable in Majorcan cuisine. After harvesting it, the Majorcans pickle the stems and twigs in vinegar, or it is freshly prepared by being briefly boiled. Rice dishes like arròz brut are refined with sea-fennel – the "dirty rice" is a saffron-spiced rice broth with vegetables and pieces of meat. Marinated sea-fennel is also eaten with the popular, unsalted bread with olive oil and tomato, the pa amb oli, which is served with ham, cheese, sausages or tuna and accompanied by the very good Majorcan capers and olives. Sea-fennel should, however, always be used sparingly because its taste is very intense.
The sea-fennel can also be grown in Majorcan gardens – it is very modest, does not need much watering and loves to be in the sun. It feels particularly comfortable against a wall which will protect it from frost. It can also be bought in glass jars. May is its harvesting time when people with baskets and sickles can be seen clambering over the rocks harvesting the sea-fennel. This is done very cautiously and only the upper shoots are taken as pulling up the whole plant is prohibited. Sea-fennel is under environmental protection and can only be picked in small quantities up to a maximum of 1 kilo or three plants (without roots).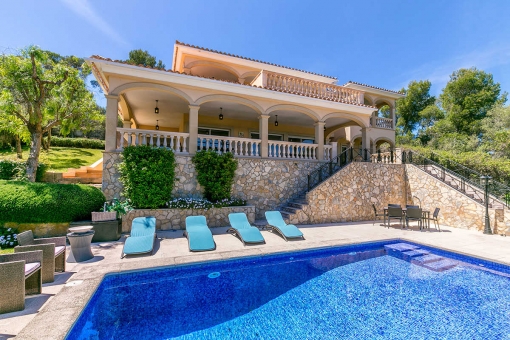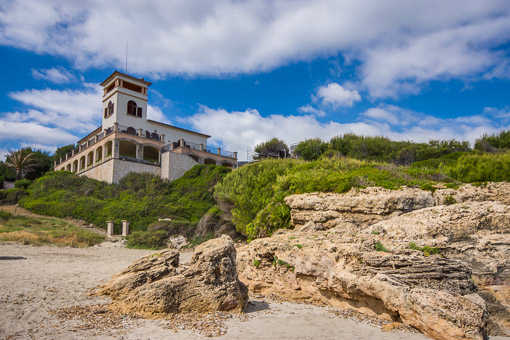 Risotto with gambas and sea-fennel
In this healthy recipe, the sea-fennel gives the rice the perfect flavour. Our fitness fan Sascha highly recommends it! It is perhaps a little elaborated, but worth every minute if you can use fresh sea-fennel from the island.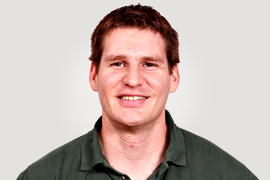 Ingredients
750 g of peeled gambas
100 g fresh sea-fennel
1000 ml fish or shellfish stock
75g unsalted butter
3 shallots
1 clove of garlic
350g risotto rice
120 ml white wine
25 g Parmesan
Salt, pepper and other spices for the taste
Preparation
Wash the sea-fennel, free it from hard or withered parts and chop it finely. Melt the butter in a large saucepan and fry a shallot and the pressed garlic. Add the rice and the sea-fennel and stir into the butter. Now add the white wine and simmer while stirring until the wine is absorbed. Turn up to medium heat, stir in a ladle of stock, stir and wait until the liquid is absorbed. Continue gradually adding the rest of the stock. After about 20 minutes the rice should still be firm to the bite. Add the gambas, parmesan, salt and pepper, and any other spices you prefer, and mix everything together.