1200 fincas and villas in Mallorca
Book your dream holiday with on-site service in Mallorca.
Important booking info
Current information about COVID-19 pandemic and your Porta Holiday travel booking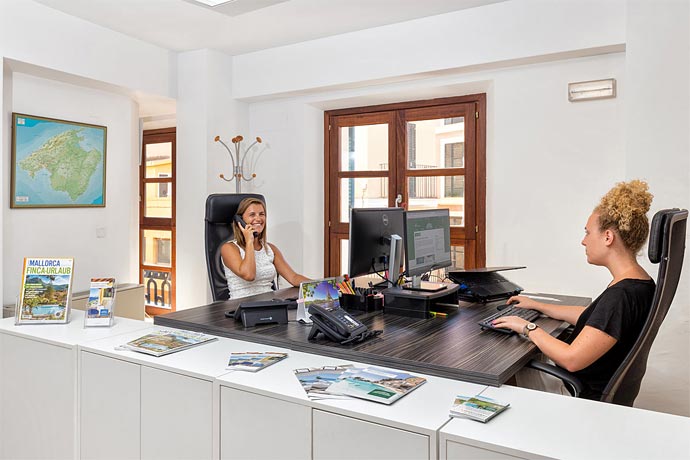 Enjoy autumn and winter on the island of sunshine! Now is the ideal time for outdoor activities such as golf, hiking or cycling, and Porta Holiday is now offering a large selection of houses with heating, and often a fireplace in front of which lovely cosy evenings can be spent.
Take advantage of the freedom and security offered by a holiday home. The beaches are empty and the Covid 19 prevention measures on the island are very comprehensive, assuring that you can enjoy your holiday in good health and safety. Everyone who has travelled here during this special summer season are full of praise for the island, which will probably not be experienced so empty again very soon.
At the moment travel to Mallorca is without any restrictions. All you need to do on arrival is fill in and present the FCS health-check form. This form can also be prepared online in advance and its corresponding QR-code scanned on site. For the return journey you are advised to enquire with the responsible authorities in your federal state/country. Due to the frequent changes we are, unfortunately, unable to provide a binding status confirmation.
Book your autumn or winter holiday on Mallorca now - you are sure to be delighted.
To express our thanks you for your loyalty: For all new bookings with start of journey up to the 31.12.2020, with immediate effect we are reducing the deposit from 30% to 15% until further notice.
Please contact us, preferably by e-mail at info@portaholiday.com. You can also reach us by telephone Monday to Friday from 10 a.m. to 6 p.m. at +44 2037 695 431 or +34 671 332 232
Recent offers
Villas und fincas with discounts up to 20%.
Popular locations in Mallorca
More than 1200 holiday homes and apartments throughout the island.
Dream holiday in Mallorca
This is how beautiful your vacation could be.
Simply switch off, escape from everyday life, enjoy the nature and the sun – that characterises finca holidays in Mallorca. Do what you like, spend time together with the family, with friends or as a couple. And so that the best weeks of the year are really perfect for you we at Top Villas Mallorca and Porta Holiday do our best every day.
Play it safe and do not compromise when planning your holiday – nothing is more precious than your free time and well-being. When booking your holiday home place your trust in one of the oldest and largest holiday-home brokers in Mallorca.
Planning a birthday meal on your finca? Or you want a daily breakfast service? You have questions about excursions? Nothing is impossible! Our staff are experts in fulfilling holiday wishes and will be pleased to organise any any additional services desired
About Porta Holiday
We open up new perspectives for holidays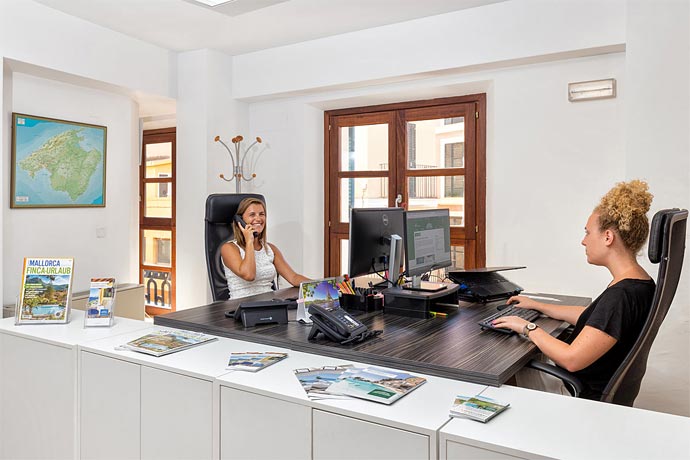 Porta Holiday - the name says it all, because we open up new perspectives for holidays in Mallorca: Dreamlike country houses for individualists and exclusive villas and holiday homes for those who want to experience authentic island feeling far away from mass tourism.
As a company we are part of the international Porta Mondial group and 100% owned subsidiary of the largest real estate company in Mallorca, the Porta Mallorquina Real Estate S.L.U. Porta Holiday was founded in 2014 by Porta Mallorquina, to meet the increasing demand for investment properties in the field of holiday properties, according to the motto: If you can´t use your holiday property permanently, you may at least earn money with it.
A trend, which also includes the Balearic Islands government has taken due account – the holiday rental license, which used to be very hard to get before, is now obtainable easily for villas, detached houses and townhouses. This opened up completely new profit opportunities for owners and potential buyers and their properties.
Vacation with Porta Holiday
Our most important services at a glance

v>