Fincas and Villas in Mallorca, Menorca and Ibiza
Over 6000 accommodation possibilities for your holiday with best-price guarantee
Finca in Mallorca with pool
Selected fincas and villas in Mallorca with pool
Luxury Villas in Mallorca
Luxury villas in Mallorca with large pool and panoramic views
Affordable holiday apartments in Mallorca
Holiday apartments in Mallorca close to the beach
Fincas and villas in Mallorca for family holidays
Holiday homes for 6 persons and more with terrace, barbecue and pool
Popular locations on the Balearic Islands
More than 6000 villas and apartments on Mallorca, Menorca, Ibiza and Formentera
Dream holiday in Mallorca
This is how beautiful your vacation could be.
Simply switch off, escape from everyday life, enjoy the nature and the sun – that characterises finca holidays in Mallorca. Do what you like, spend time together with the family, with friends or as a couple. To make sure that the most beautiful weeks of the year are really perfect for you, we at Porta Holiday, together with our local partners, do our best every day.
Play it safe and do not compromise when planning your holiday – nothing is more precious than your free time and well-being. When booking your holiday home place your trust in one of the oldest and largest holiday home agents for Mallorca, Ibiza, Menorca and Formentera.
Planning a birthday meal on your finca? Or you want a daily breakfast service? You have questions about excursions? Nothing is impossible! Our staff are experts in fulfilling holiday wishes and will be pleased to organise any any additional services desired
About Porta Holiday
We open up new perspectives for holidays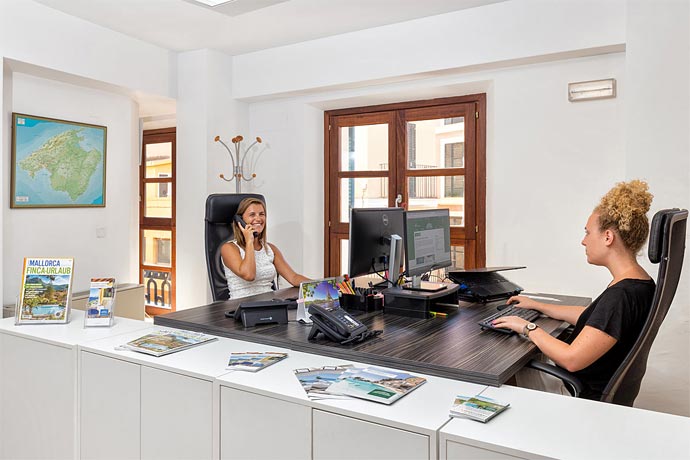 Porta Holiday - the name says it all, because we open up new perspectives for holidays in Mallorca: Dreamlike country houses for individualists and exclusive villas and holiday homes for those who want to experience authentic island feeling far away from mass tourism.
In cooperation with selected and renowned agencies on Mallorca, we support you in planning your perfect holiday in a holiday home. Have you already found your dream home?
You can book your trip directly on our website. The further processing takes place via our cooperation partner Holidu, one of the largest holiday home brokers in Europe, with the advantage of the best price guarantee and the possibility of individual advice from our experts at no additional cost to you!
Reception on site is organized via selected agencies such as Bookiply, all of which we know personally and have carefully selected for you.
Porta Holiday is part of the German Porta Mondial GmbH and a subsidiary of the international Homes & Holiday AG based in Munich. Our sister company Porta Mallorquina Real Estate is one of the largest real estate agents on Mallorca with more than 60 employees, 8 locations and around 2,000 properties for sale and long-term rent.
Vacation with Porta Holiday
Our most important services at a glance
Vacation in holiday home in Mallorca
The perfect way to enjoy your stay on the largest Balearic island.
You are free of time pressure, independent in the daily planning and the experience of the real, authentic Mallorca. Whether a family vacation, holidays with friends or pleasure for two - at Porta Holiday you´ll find your ideal holiday home: From the spacious country house with a pool, to the beach house close to the sea, to the idyllic cottage with views of the impressive Tramuntana mountain range, we offer a wide selection of holiday properties in Mallorca.
With its miles of sandy beaches in Mallorca, the north coast offers the ideal conditions for a perfect beach holiday. Especially families appreciate the sandy beaches, the quiet, pristine sea and the wide range of playgrounds along the beach promenade in the bay of Alcudia. The harbor town of Puerto de Alcudia offers an elegant yacht harbor, a large variety of good restaurants and boutiques to stroll around. The well-tended beach promenade leads to Playa de Muro, which is described as one of the most beautiful beaches of Mallorca by experts.
Many holiday homes and well-kept villas, some in first ocean line, are the perfect base for exploring the area, maybe with a bike over the very beautiful cycle paths that lead from Puerto de Alcudia up to the popular town of Can Picafort, or further north to Alcudia . The capital of the north is a true gem, which is best discovered by a tour on the imposing medieval fortress wall, that surrounds the old town of Alcudia. Numerous bars, cafés and restaurants invite you to linger a little bit, after exploring the quaint streets. A vacation home in the area of Alcudia offers holidays for every taste - short routes in the city and a few minutes to the beautiful beaches of Mallorca.
Exclusive villas and magnificent country houses in the north of Mallorca are also found in the area around Pollensa. The romantic old town is ideal for hiking and the many restaurants offer excellent cuisines to suit all tastes and budgets. In the port of Puerto Pollensa, there is the famous "Pine Walk", the harbor-side area, fringed with pines and equipped with many bars, cafes and restaurants. The bay of Pollensa offers excellent swimming. Above all, fans of water sports enjoy themselves, from a sailing course, to kite-surfing and diving expeditions, the vacationer can expect a wealth of leisure activities.
Anyone looking for an idyllic rural location, will find their perfect vacation in Santa Margalida. With views of the Tramuntana mountains, a country house is the ideal starting point to discover the authentic, original Mallorca by bike or on hiking trails.
A wide range of country houses and holiday homes are also offered by Porta Holiday in the northeast of Mallorca. Due to the proximity to the sea and the rolling hills of Mallorca, vacationers can enjoy it with all their senses. The small town of Artà, with its famous Tuesday market, has a year-round good infrastructure and attractive gastronomic offers. From the Sanctuary of Sant Salvador you can enjoy a breathtaking view of the surrounding area. With its numerous golf courses, for example in Capdepera or Canyamel the Northeast is also perfect for a golfing holiday at the sea.
For beach holidays, Canyamel bay, Cala Ratjada or Colonia de St. Pere are recommended. Here, vacationers will find a wide range of well-kept holiday homes. The bustling port town of Cala Ratjada also offers an eclectic selection of restaurants, cafes, bars and clubs. The northeast of Mallorca convinces tourists by its leisure and sports activities such as, riding holidays, cycling, hiking, tennis camps, water sports or golf trips .