On holidays at home on Mallorca
Additional services for a guests
Holidays at a holiday house or on a "Finca" in Mallorca have many advantages: your time is flexible, enjoy your privacy and experience the real, authentic Mallorca away from mass tourism.
To make your holiday in Mallorca quite perfect, it is important that you can really count on your holiday home agent. For this reason, we visit each property personally before we include it in our programme. This way you can be sure that the pictures and description are up to date. And we make sure that you have a local contact person if needed.
We will be happy to organize your special wishes, such as babysitter, cook, guided tours etc. for you in advance. Please contact us at the time of booking. Porta Holiday is a Spanish subsidiary of the German Homes & Holiday AG - we have an excellent network on the island, but work according to German quality standards.
We know and love Mallorca. Take advantage of our insider knowledge - we will be happy to advise you without obligation which house or finca on Mallorca is best suited for your next holiday trip.
Attractive additional services for your holiday in Majorca
We are very familiar with the island, so we know what to look for and we are in the position to offer you an additional programe according to your budget and requirements. This services can be booked in addition to your Majorcan holiday home so as to suit your individual holiday requirements.
Shopping service
Imagine when you open the fridge on your arrival and discover that your first task is a visit to the grocers, or you a drink a glass of tap water and see that you need to buy mineral – it's not the best way to start your stay! Why not tell us what you need before you arrive and we will personally fill up your fridge with your favorite products! Shopping costs + 50,00 EUR Service Charge.
---
Breakfast service
Micha specialises in bringing your holiday breakfast to your table, punctual and fresh every day – no matter where you are located on the island. His cheerful breakfast service is a great way to surprise your loved ones, celebrate a birthday or just to indulge yourself, and even the basic-breakfast is a hit for individualists. A call is sufficient (no later than 3 pm the day before) and the ingredients for your individual breakfast can be decided upon. The deluxe breakfast and the highly luxurious super deluxe breakfast even include, apart from the kitchen service, laying the table.
michasbreakfastservice.com/
---
Private cooking Mallorca
Erleben Sie einen unvergesslichen Abend auf Ihrer bei uns gebuchten Ferienfinca – unser Küchenprofis bekochen Ihre Familie und Ihre Freunde. Der Privatkoch übernimmt die Planung, den Einkauf und die Zubereitung für Sie – professionell und zuverlässig. Und das alles in Ihrem privaten Umfeld – in Ihrem Feriendomizil. Es wird alles frisch bei Ihnen zubereitet und danach glänzt die Küche wieder wie neu!
jfk-privatkoch.vpweb.de
---
Wellness treatments
Let yourself be pampered from head to toe! Harmonize body and soul and relax – and all in the privacy of your own property. Our wellness-team would love to spoil you in your Majorcan holiday residence. Enjoy the services of a qualified professional team!
www.mobilemassagemallorca.com
---
Yoga Unterricht
Im Alltag die notwendige Balance zwischen Anforderungen und Entspannung zu finden ist nicht leicht. Durch das Praktizieren von Yoga haben wir die Möglichkeit, eine Zeitlang ganz bei uns zu sein, Körper und Atem bewusst zu erleben. Yoga hilft Streß abzubauen und aktiviert die Selbstheilungskräfte.
Bestehende Beschwerden wie Haltungsprobleme, Migräne, Schlafstörungen oder Rückenschmerzen können ebenso positiv beeinflusst werden wie depressive Verstimmungen und Ängste. Durch Yoga können wir Kraft und Lebensfreude erfahren, um so den Alltag besser zu meistern. Versuchen Sie es!
www.yoga-mallorca.eu/yoga-privatstunden-mallorca
---
Sprachunterricht im Urlaub
Intensivseminare & Einzeltrainings für Anfänger und Fortgeschrittene, Erwachsene und Kinder! Eine Fremdsprache in Rekordzeit lernen! Bis zu 500 Vokabeln in nur 24 Stunden! Mit dieser Methode können Sie in kompakten Kursen effektiv und stressfrei eine neue Fremdsprache erlernen, auffrischen oder perfektionieren. Die schnellste und preisgünstigste Methode eine Sprache zu erlernen! Für mehr Information zu dieser einzigartigen Methode senden Sie einfach eine Email.
www.3phase.es/de/palma-de-mallorca
---
Weddings and family celebrations
We will help you host an unforgettable party. For any kind of events, such as family celebrations, weddings, seminars or large groups, we have the perfect property or rural hotel in Majorca. Feel free to contact us. We can provide professional assistance with the organisation of your event.
www.mallorcaeventfactory.com
---
Sailing, boat trips
Treat yourself to an unforgettable sailing or boat trip in front of deserted beaches and lost bays with lunch and a swim break. Enjoy a relaxing day, experience the wonderful island under steep cliffs, romantic white-sanded bays, wild landscapes teaming with pine trees and historical Spanish watchtowers.
www.charterkingmallorca.com
www.sunboats-mallorca.com
---
Golf in Majorca
We have a number of properties and rural hotels especially designed for golfers. Furthermore, we can help you to discover the world of golf. Private lessons with no more than 2 people can be organised in order to create a perfect and personal learning atmosphere. We can provide you with introductory courses, courses for professionals or for the hole family.
www.sportivgolf.com/die-golfschule/
---
Hiking
Hiking in Majorca is a unique experience with treks for all levels, from easy hikes to demanding tours through the mountains. We can advise you and arrange hiking- and travelling guides for small or large groups, or just for the two of you.
http://blog.prinzessin-stolberg.com
---
Guided scooter-tours, scooter rentals
Rent a scooter and discover a new and exciting way to explore the island. Enjoy the freedom that only a scooter can offer and explore places that normally would be impossible to reach, alone or on a guided group-tour.
www.cooltra.com/de/
---
Cycling
Cycling in Majorca can be a relaxing leisure experience or a demanding sport, whichever way one chooses to enjoy it, one can experience the stunning Mediterranean nature combined with holiday fun. We will arrange bikes and a guided tour as well as all facilities you may require for your cycling vacation .
www.palmaonbike.com/#services
---
Sightseeing flight over Majorca
Picture yourself ascending over the Majorcan landscape in a private helicopter or hot-air balloon. You will experience the wonders of nature from the sky with a totally different angle in a helicopter or a hot-air balloon.
www.rotorflug.com
www.mallorcaballoons.com
Porta Holiday Head Office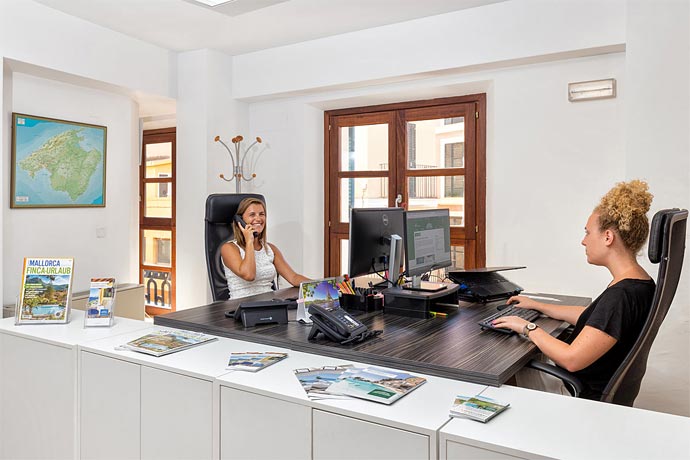 Porta Holiday
C./ Mar y Estany 45 -1º
E-07400 Alcudia
Tel. (GB) +34 971 54 62 27
Tel. (ES) +34 971 54 62 27
E-Mail info@portaholiday.com