Frequently asked questions (FAQ)
Services for our guests
Answers to frequently asked questions about vacation rentals
If you can not find an answer to your question, please call us or send us an e-mail. We're here to help.
How can you rent a holiday property?
Basically, we recommend that you choose a holiday home according to your preferences on our website. If you wish, we will be happy to advise you on your choice. Here you will find our contact details. After booking, you will directly receive a booking confirmation from Porta Holiday / Holidu as well as the respective agency.
What arrival and departure times are provided?
The property is usually available from 4 pm at the latest on the day of arrival. On the day of departure, the holiday property must usually be vacated by 10 am. However, please check your booking confirmation and ask us if you wish to arrive earlier or depart later - depending on availability, this may be possible.
Who is your contact in case of problems on the spot?
For all questions regarding the holiday property, the agency on site is your contact. You will receive a separate booking confirmation with all telephone numbers and contact persons.
Is there a tourist tax on Majorca?
Yes, the Balearic government introduces a tourist tax to the 1st of July 2016. The costs can range between 0,25 and 2,00 Euro (+10% IVA) per person and night. The exact amount is related to the kind of property, the length of the stay and the travel period. Children and teenager up to 16 years are exempted.
The tax must be paid by the owner of the holiday property. Please note that because of this you may be required to pay the tourist tax upon your arrival. Here you can also see the official legislation with price list.
Are linens and towels provided?
Bed linen and towels are usually available by default in every holiday property. On the website you will find more information under the "equipment furnitures" of each property.
Is it possible to use the property for overwintering?
Not all properties are suitable as a winter home. Even though, the weather may be much nicer than in northern Europe, it can be cold at night and not all properties have adequate heating. The selection of properties, which are suitable for a winter holiday, however, is sufficiently large. We will gladly advise you on the possibilities to spend a winter vacation or the entire winter on Mallorca.
What should I do if I do not get any booking confirmation email?
You should receive confirmation from Porta Holiday & Holidu immediately. Please also check your spam folder for the booking confirmation email. It can take up to 1-2 workdays until the booking is confirmed by the local agency. In case you have not received any confirmation after 48 hours, please contact us. We will then check if your booking has been submitted and that the correct e-mail address has been used.
Information about Covid-19 / Coronavirus
There are new developments each day regarding Covid-19, also known as Corona-Virus. Due to this we are experiencing an increased number of inquiries and would, therefore, like to give you some brief information about possible cancellations.

All entry regulations and protective measures for the Balearic Islands can be found here.

For particularly easy handling of any cancellation or rebooking requests, we recommend booking accommodation with an option for free cancellation. You can easily find these offers on Porta Holiday / Holidu by clicking on the filter "Free cancellation".

To cover yourself in case of illness before the trip, we recommend taking out an travel cancellation, travel interruption and foreign health insurance.

If you have received a travel voucher from us, unfortunately it cannot be redeemed directly on the website. Please send an e-mail to info@portaholiday.com in advance.
Can I use other payment methods than those listed, e.g. if I don't have a credit card?
Before arrival you will receive directions to the property or to an easy to find meeting place nearby. We ask you to inform us about the flight data with the exact travel times a week prior to your arrival.
Can I bring my dog or another pet?
To ensure that only pet-friendly accommodation is displayed for you, activate the corresponding filter. First select your destination and activate the "Pets allowed" field in the "Facilities" filter. You can also find special information in the property description of the respective accommodation.
You would like to take more than one pet with you? We recommend that you always enquire about this before booking, as otherwise there may be cancellation charges if only one pet is allowed.
How can I advertise my holiday property with Porta Holiday?
If you are interested in holiday rentals and own a house on the Balearic Islands, we will be happy to assist you. You can find more information here.
Porta Holiday Head Office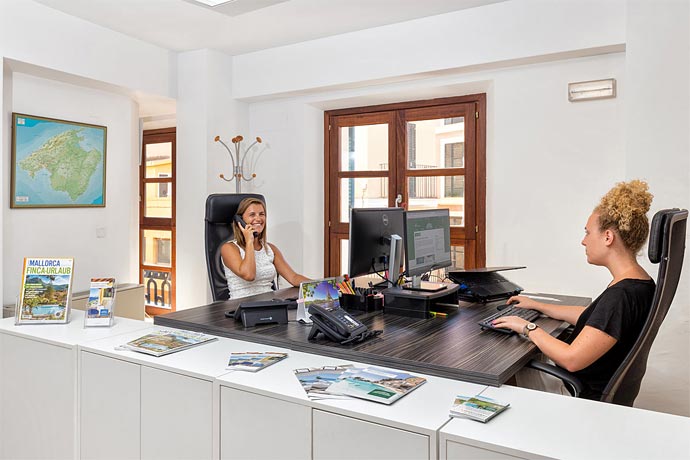 Porta Holiday
Tel. (ES) +34 871 18 38 37
E-Mail info@portaholiday.com
Office hours Mon-Fri 9.00 - 16.00