Frequently asked questions (FAQ)
Services for our guests
Answers to frequently asked questions about vacation rentals
If you can not find an answer to your question, please call us or send us an e-mail. We're here to help.
How to rent a vacation property?
In general, we recommend that you first choose a property on our website according to your preferences. We will be happy to assist you in your selection. If you are interested in a property, you can send a request and we can pre-reserve this property for 2 days and send you an offer.
Within 48 h hours, you can now confirm to us, if you want to book the property. In this case, you have to pay a deposit of 30% of the rent by bank transfer. Upon receipt of the deposit, we will send you a confirmation email. The final payment has to be made 5 weeks prior to arrival.
How to transfer the property?
Before arrival you will receive directions to the property or to an easy to find meeting place nearby. We ask you to inform us about the flight data with the exact travel times a week prior to your arrival.
What arrival and departure times are provided?
On arrival day the property is available the latest on 4 p.m.. Please ask us, if you wish to arrive earlier - depending on availability, this may be possible. On departure day the holiday property has to be vacated at 10 a.m.. Of course, you can also leave according to your wishes ealier than 10 a.m. and arrive after 4 p.m. For arrivals after 10 p.m. and departure times before 6 a.m. additional fees will accrue
Who is your contact in case of problems on the spot?
Also, for all questions around the holiday property, Porta Holiday is your contact. Inside, you will find guest information with the most important phone numbers. If you need medical assistance, you will also be afforded with English language support, on the phone number +34871959966.
Are linens and towels provided?
Bed linen and towels are usually available by default in every holiday property. On the website you will find more information under the "equipment furnitures" of each property.
Is it possible to use the property for overwintering?
Not all properties are suitable as a winter home. Even though, the weather may be much nicer than in northern Europe, it can be cold at night and not all properties have adequate heating. The selection of properties, which are suitable for a winter holiday, however, is sufficiently large. We will gladly advise you on the possibilities to spend a winter vacation or the entire winter on Mallorca.
Is there a tourist tax on Majorca?
Yes, the Balearic government introduces a tourist tax to the 1st of July 2016. The costs can range between 0,25 and 2,00 Euro (+10% IVA) per person and night. The exact amount is related to the kind of property, the length of the stay and the travel period. Children and teenager up to 16 years are exempted.
The tax must be paid by the owner of the holiday property. Please note that because of this you may be required to pay the tourist tax upon your arrival. Here you can also see the official legislation with price list.
Current information about COVID-19 pandemic and your Porta Holiday travel booking
1.Can I cancel my trip free of charge? Does a travel warning entitle me to a free cancellation?
Finca holiday is an individual trip for which the general terms and conditions of contract apply. This means that there is no legal basis for a free cancellation in the case of a travel warning or a travel ban.
However, we make an effort to check every request and try to organize a rebooking, or we provide a travel voucher when possible. But please be aware that we act as an intermediary and are dependent on the goodwill of the respective house owner.

Would you like to book without any worries?
We have a wide range of holiday homes which offer a flexible cancellation policy in the case that there is a travel warning or travel ban for Mallorca at the time of the rebooking or cancellation.
You can find more details about this offer here.


2. I have received a travel voucher. How can I redeem it?
If you have received a travel voucher from us, you can enter it in the message field when booking a new trip. The travel vouchers are transferable to a person of your choice.
If you have any questions, we will be happy to advise you personally. Please send us an e-mail to info@portaholiday.com.


3. Is a holiday home safe and how do you guarantee standards of hygiene?
Enjoying your holiday in a holiday home, is certainly one of the best holiday alternatives without additional risks in these uncertain times.
The property owners clean according to current standards of hygiene and all owners have been informed by us in detail about the European standards of hygiene. The keys are either handed via a key box or by the property manager respecting the security measures (mask and safety distance).


4. What happens in case of illness with COVID before the journey?
You have the right to cancel the trip at any time, the standard contract terms/cancellation regulations apply.
In case of illness before the trip, we recommend you to contract a travel cancellation insurance.


5. What is the current situation in Mallorca?
At the moment Mallorca has open boarders (as of 12.11.2020). A health check form must be filled in. We recommend you to prepare the form online and present it as a QR Code on your mobile phone.
Since July, masks are mandatory in public places on Mallorca. According to the law, swimming pools and beaches are exempt from the protection regulations. No masks have to be worn when doing sports or hiking in nature nor when eating/drinking in bars, cafés and restaurants. At the moment there is a night curfew starting at 12 am. Private meetings are possible with a maximum number of 6 people (as of 12.11.2020).
More detailed information can be found here.

The current COVID figures for Mallorca can be viewed here.


6. What is Porta Holiday doing during the pandemic?
We would like to make your booking easier.
How can you book "without worries"?
We are currently offering flexible cancellation / rebooking for 2021, in case there is a travel warning or travel ban for Mallorca at the time of the rebooking or cancellation.
You can find more details here.


7. What is the best way to contact Porta Holiday?
We are happy to advise you individually. Send an e-mail to info@portaholiday.com so we can get in touch with you. The Porta Holiday office is still there for you, but we also follow the latest security measures and work mainly in home office.
Porta Holiday Head Office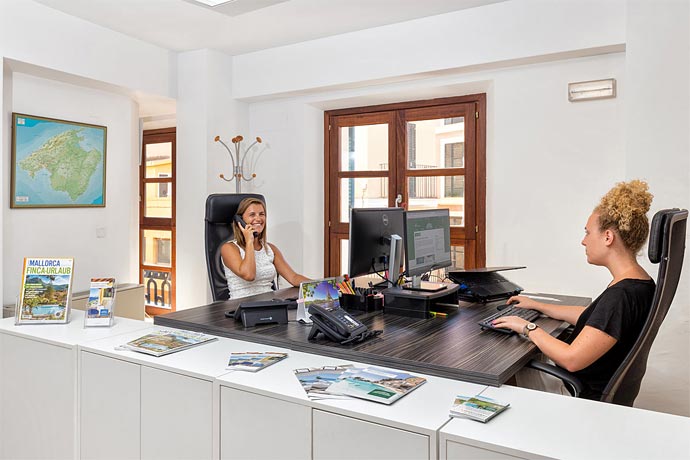 Porta Holiday
C./ Mar y Estany 45 -1º
E-07400 Alcudia
Tel. (GB) +34 971 54 62 27
Tel. (ES) +34 971 54 62 27
E-Mail info@portaholiday.com