The month of September is perfect for a visit to a wine cellar at a local vintner. We recommend: Bodega Ca´n Novell in Binissalem, where you are welcomed with a glass of their excellent and well-priced wine.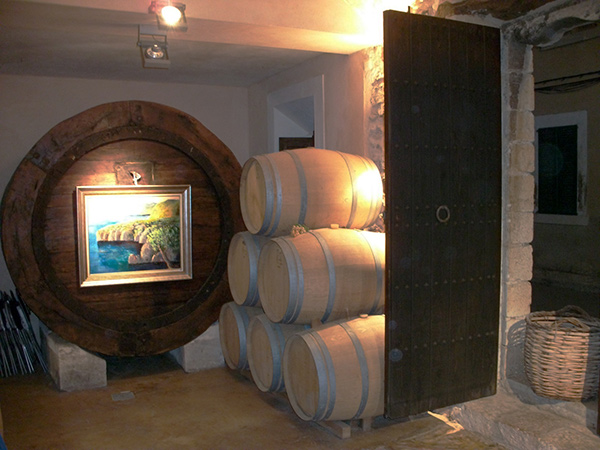 This Bodega is different from the others: The Binissalem vintner Andreu Villalonga produces wine, how he thinks it is right and renounces consciously the indication of origin or seals of approval. What matters is:
"Good wine that everyone can afford "
His success and popularity of his Ca´n Novell wines beyond the borders of the island prove him right. Andreu produces fantastic drops of wine to more than fair prices: Ca´n Novell wines are Cuvees from local and foreign grapes. They can be ordered for 5 Euro onwards and bought at an even lower price in direct sales at the bodega. A bottle of heavy sang red wine for example only costs 3 Euro there.
Nonconformist and successful
Andreu already showed himself rebellious as young man and ignored his fathers wishes to step into his footsteps and overtake Ca'n Novell in fourth generation. First, Andreu wanted to study journalism and so he moved to Bilbao and Barcelona. But he changed his mind, fortunately for the wine drinkers and family business, and made his master's degree in oenology in Madrid before returning to Mallorca. Since then he is the owner of one of the most liked and rustic bodegas that Mallorca's wine village Binissalem has to offer.
At the main road, in direction of the village square, the old village house is located. Its large gate is mostly open. A large vault with high ceiling invites you to admire the giant olive barrels at the walls, which are over 200 years old and hold up to 5000 litres. A few smaller wine barrels made from American and French oak stand in between as well and 4-liter glass carafes are stacked to towers. Also other wonderfully renovated rooms are full of wine and Andreu sometimes shows exhibitions in there. Located at the entrance is an old oil mill and you can purchase native cold pressed olive oils here. This beautiful scenery is completed by the smell of wine.
Dark and sweet wines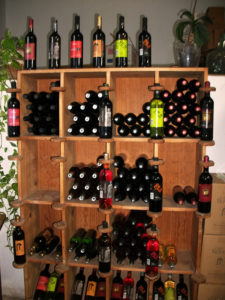 Wine friends are magically attracted from this bizarre place. They can try a glass of "Blanc", "Rosat", "Sang de Bou"(bull-blood), "Negre" or "Moscatel" for only three Euro. 15 different wines are pressed at Ca'n Novell. The red wines outweigh but Andreu insured that the demand for white wine increased in the last 15 years. He also sells sweet wine, his vermouth is especially recommended: cold, with ice, a slice of lemon and an olive is this a perfect aperitif. We asked, how the new harvest was? "Very good but a bit less than the year before because of the rain in June", says Andreu.
From the end of the year, in December or latest in January the new wine will be up for sale. Andreu produces his wine with heart and soul. He always rolls up his sleeves himself and can be found either in his vineyard or in his production site in Binissalem. It's almost like the bachelor is married to his bodega: he even lives above it.
Vintner with environmental awareness
Over 100.000 bottles are filled every year at Ca'n Novell – by the way sustainably which suits Andreus character. The deposit bottles are recycled and cleaned twice a month in an antique bottle cleaning machine. After that, they are refilled with wine and corked. Andreu doesn't use pesticides off course.
Certificates, awards, critics and associations are all irrelevant because the only thing that counts are the clients. And they are loyal to the bodega: many get deliveries from them for almost half a century, off course without additional charge. Andreus customers includes not only half the village but also  Majorcans all over the island, as well as residents and visitors, but also typical village "colmados" (small shops which sell almost everything) and small and big wine shops.
For example in bodega Santa Clara in Palmas old town. Here you can try the good Ca'n Novell wine too and sit between (slightly smaller) wine barrels in an atmosphere almost as cozy as in the wine cellar in Binissalem.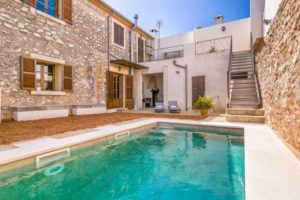 Vins Ca'n Novell
C/ de Bonaire, 17 in Binissalem
Tel. 971 51 13 10
www.cannovell.com
Opening times: Monday – Friday: 8:00 – 20:00 (lunch break 13:00 – 15:00), Saturday: 8.30 – 14:00.
Also wine tastings with bigger groups can be organised upon request.